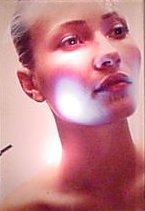 The Chromalift (TM) is the most revolutionary, non-invasive, non-surgical facial treatment currently available. The Chromalift (TM)

represents the synthesis of Swiss technology, the principles of Chinese energy medicine, and chromatherapy.

      Like acupuncture and feng shui, chromatherapy is recognized for its positive, energy re-balancing effects. Pure monochromatic light applied to specific points and energy centers of the face and body, is found to be very effective in beauty and wellness treatments.The appropriate color of light is coupled with lymphatic drainage and used on specific energetic points to achieve the lifting portion of the treatment and promotes the toning of the skin. There is in addition a sense of well being and deep relaxation. 

     The Chromalift (TM) utilizes two pieces of equipment. The Biodraineur (TM) for a gentle, pulsed massage to assist the lymphatic system, just beneath the skin, to eliminate toxins and excess fluid (facial puffiness). The Chromapuncteur (TM) provides the pure monochromatic light. 

      This relaxing facial treatment reduces edema or puffiness around the eyes and face, decreases the appearance of fine lines and dramatically tones the skin leaving a radiant healthy complexion. It also reduces stress and fatigue, improving a variety of skin conditions including acne, rosacea, couperose and psoriasis.          

The Chromalift (TM) is performed in a minimum series of three facial treatments. Each session differs in the color usage, 

pressure point work and masking techniques. Visible results can be achieved with one treatment.

We recommend a series of five for maximum effect.